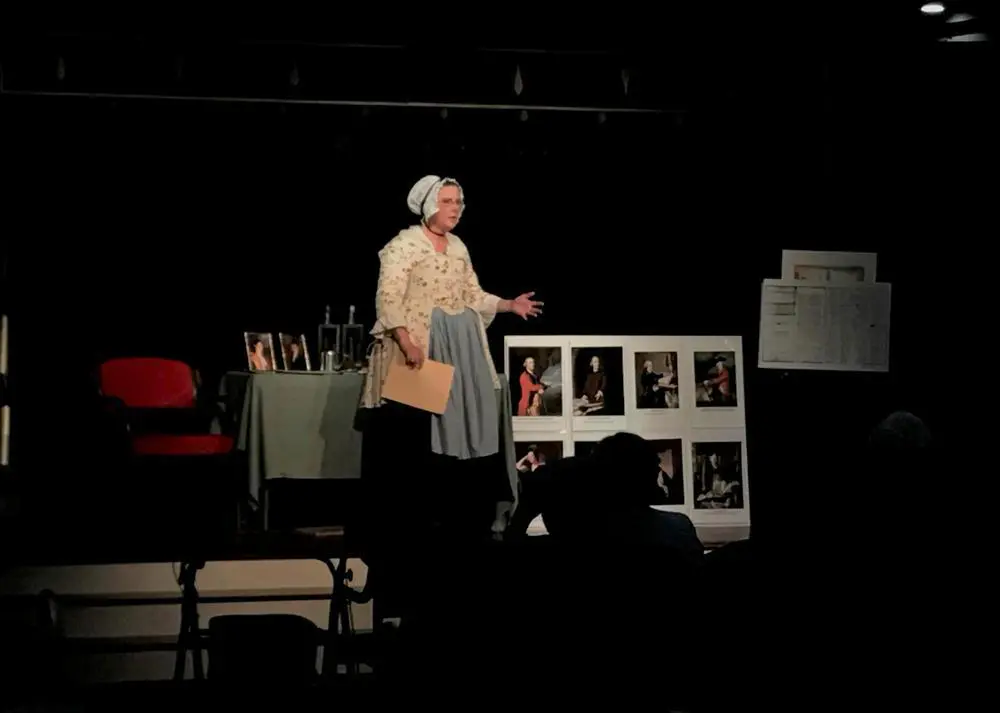 Abigail by Gail: A Colonial Experience offers Educational Programs which cover a variety of subjects in colonial history. Each program is one hour long and based on authentic primary source documentation. Programs are performed at your setting, include visuals and reproduction artifacts, and allow audience members to participate. Gail performs in handmade clothing suitable for the topic, describes how her clothing 'ensemble' was made, and why it would be worn for the occasion. Choose from the following topics:
Abigail Whitney and Family;
Eyewitness to the Events of

April 19, 1775 ©
Abigail Whitney and her family witnessed British soldiers march by their home on the Bay Road in Concord, Massachusetts, early in the morning on April 19, 1775, the beginning of the American Revolution. Later, as the soldiers retreated, they fulfilled specific orders to search the Whitney house, looking for ammunition and supplies. Abigail remained strong, but anxiously worried about her husband Samuel, who was with fellow patriots at Concord's North Bridge. Additionally, she was frightened and concerned as her teenage son went missing, she endured a dangerous trip with her youngest children to escape the British soldiers, and she provided relevant information about the situation to fellow farmers throughout the countryside. Learn about these first-hand experiences, why the soldiers searched her home, and the outcome for the family, the town of Concord, and the nation.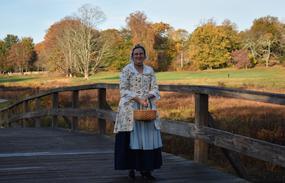 Abigail Whitney and other Heroines Of the American Revolutionary War
This program is an adaptation of the program Abigail Whitney and Family; Eyewitness to the Events of April 19, 1775, focusing on the dilemmas Abigail Whitney and her fellow housewives had and how they participated in the events of the American Revolution. Gain an understanding of how these ordinary women contributed to America's Freedom similar to more legendary heroines such as Abigail Adams, Deborah Sampson, Martha Washington, and Dolley Madison. This program is suitable for men and women, and is perfect for Women's History Month in March or anytime throughout the year!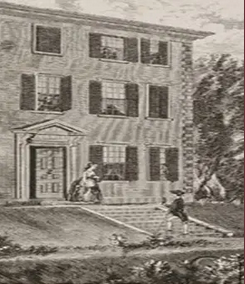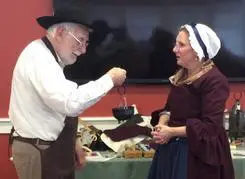 Colonial Life for the 18th Century Family:
The Tools of Survival ©
In this session, learn how a colonial family provided for their basic needs. Using primary sources like the family probate inventory and family account, learn about the items necessary for survival. Discover what things were made by the family on the farm, which items were provided by village craftsmen, and which items were imported commodities. Audience members are encouraged to participate!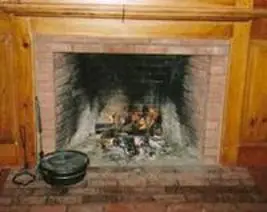 The Hearth of the Home:
Colonial Style ©
Discover how important the hearth was in a colonial home. Explore what cookware Abigail used and where it came from. Learn about what was produced on the farm and how food was preserved and stored to feed a family all year. In this hands-on session, participants are encouraged to assist in making authentic colonial bread using an authentic recipe, utensils, cookware, and proper methods. Please notify us of any food allergies when booking this program.
Music of Colonial New England: Bay Psalm Book to Regimental Ball ©
Abigail engages the audience in learning how music developed from the settlement of Plymouth, Massachusetts, throughout colonial New England. Find out how songs, composers, and entertainment were integral to living in the 18th century. Compare the music of New England with that of Europe. Using a piano or keyboard on-site at your venue, Abigail will share a variety of authentic selections and knowledge about pianofortes. Discover the role of the fife and drum, sing authentic songs, and learn the etiquette and steps of colonial dances from barn to ball!
Abigail Whitney Invites You for Tea ©
Join Abigail in a Colonial Conversation exclusively about Tea! Learn how tea was discovered, why it became a political issue, and how it was correctly served. Using a tea service similar to Abigail's, gain an understanding of the proper etiquette of a Tea Ceremony. This program can conclude with a cup of Tea and Sweets!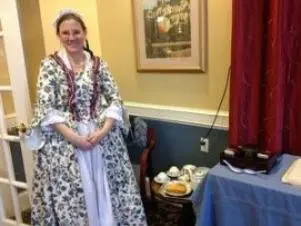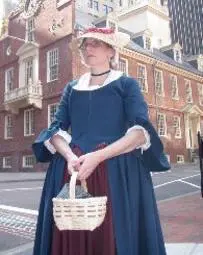 Abigail Brings the Trail of
Freedom to You ©
Abigail is pleased to bring colonial Boston to you. Learn about the historical sites along the Trail of Freedom: Boston Common to Bunker Hill. Gain detailed insight into famous patriots, townspeople, and events that shaped America. By using the real experiences of Abigail and her family, who are personally associated with most sites on the Freedom Trail, individuals will have a very personal, educational, and engaging experience. Enjoy a trip down the Trail of Freedom without leaving home!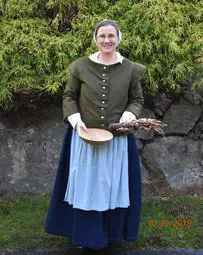 Abigail Brings the Pilgrims and Plymouth to You! ©
Submerse yourself in the year 1620. Discover the religious discipline, emerging leaders, and hardships the Pilgrims endured while living in England and the Netherlands. Learn how the Pilgrims managed the dangerous voyage aboard the Mayflower. Acquire insight into how the location of the 1st settlement in New England was determined, how order and democracy were maintained, and why relationships with the Native Americans were essential for survival.
Abigail takes you from Revolution to Declaration!
Discover the brilliance, bravery, and battles our founding fathers and young men endured. Learn how 'in human events,' Americans achieved our 'inalienable rights and liberty.' Join Abigail as she takes you from Revolution to Declaration; perfect for any July 4 - Independence Day Celebration or anytime throughout the year!